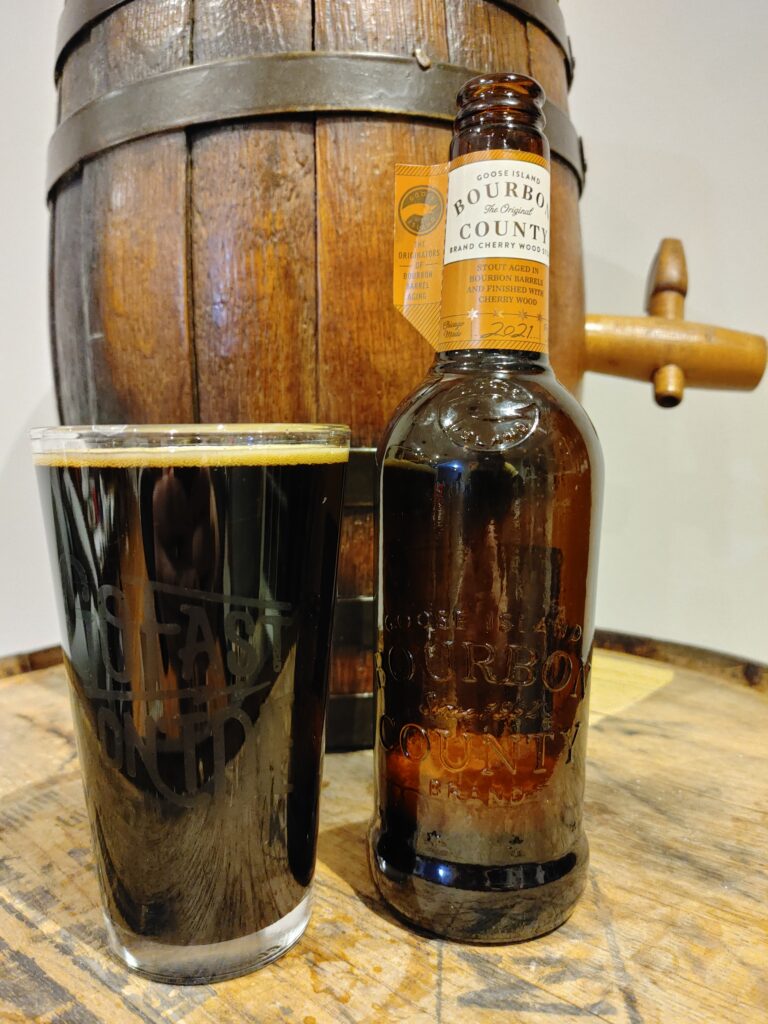 Goose Island
Bourbon County Cherry Wood Stout
2021
14.2%
Imperial Stout aged in Bourbon barrels
Every year, the Bourbon County Stouts roll out, and with them come at least a few new variations. 2020 saw the Midnight Orange (which will be mentioned on a future podcast), and this year sees a few new tastes with Cherry Wood being one of the more reasonable ones. It pours Stuart Semple black and immediately smells like someone dunked a loaf of bread in alcohol. Great start! Let's find out if you wood or wood not like it, though.
Hops – 2.0 Like a bear lost in the forest (loose wood pun, I'll try again later).
Malt – 9.1 It's huge. It's Malt of America. It's King of Prussia Malt big. Roasted, toasted, chocolatey, sweet and deep.
Carbonation – 6.1 It's not going to foam over like a belgian, but the noticeable bubbles break up what might have been a cloying sweetness with the heavy syrupy malt.
Character – 7.5 I don't think I've eaten cherry wood on purpose before, so I'm not sure if there's a largely noticeable difference from an oak barrel but the intense malt, booze, and fruit are here in droves. Groves?
Palate – 8.5 It all comes together to, I'm sure, make something slightly different than the normal BCBS, which is usually a fantastic product anyway.
Overall – 8.7 If you want a big bourbon barrel stout with something a little neat done to it for a conversation point, this is great.
Straight from the source, since I am not a Cherry Wood flavor expert: "The versatility of the cherry wood and honeycomb shape allowed for maximum flavor extraction, revealing complex characteristics like red fruit, ripe cherry, and light toffee, which are not found in the original oak barrel itself. The result is an amazing elevation and a notable difference from our Original Bourbon County Stout." Without a regular BCBS to try back to back, it's almost impossible to verify those claims, but it is really quite good.