OLD DOMINION OAK BARREL STOUT
FERMENTED ON VANILLA BEANS
45 IBUS, 5.5%
VS
OCELOT MY ONLY FRIEND
BOURBON BARREL AGED RUSSIAN IMPERIAL STOUT
10.5%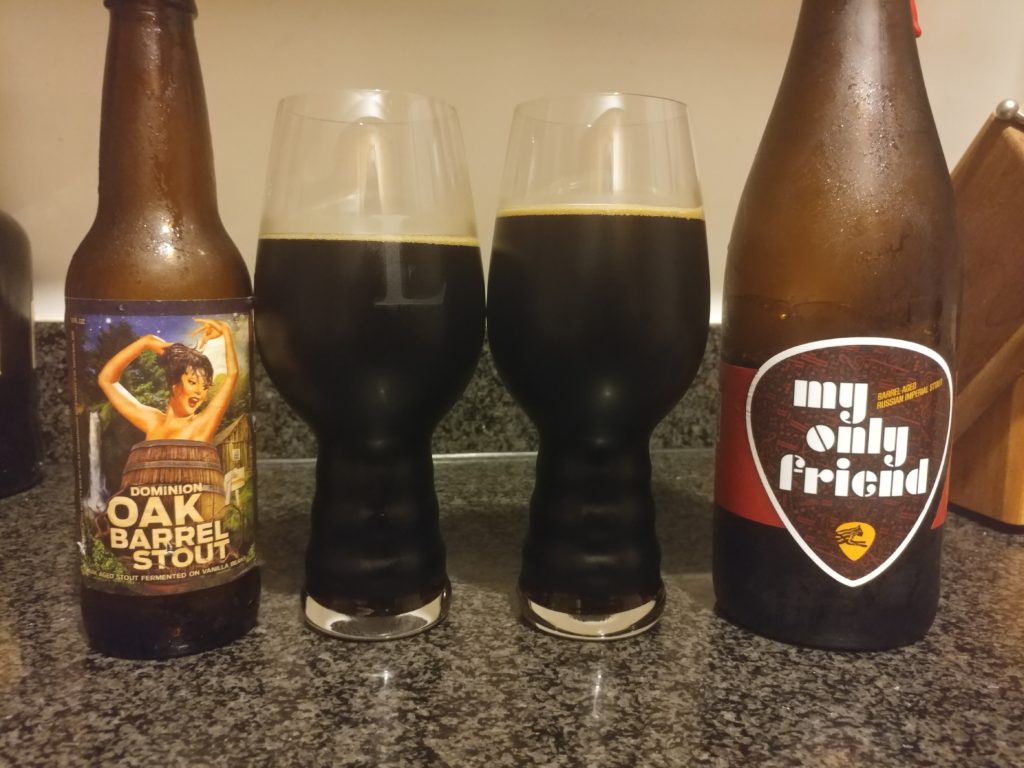 I'll start this with a direct comparison, writing a little about each, then giving them their respective marks. The Russian imperial stout has hopefully not rigged this in any way, and I have never met with Ocelot.
The Dominion stout starts off with a crazy nose. A little bitter, very malty, very roasted, slightly coffee, somewhat chocolate. Smells like someone dumped a carefully crafted espresso over some chocolate generic ice cream. But let's cut straight to it, and put it in the most discerning mouth in the room: mine.
…And much like Ron Burgundy, I immediately regret that decision. It's limp. Flaccid. Weak. Okay cool let's see how the other one is because another 10 seconds spent on this is already too much.
AND IN THE OTHER CORNER, WITH TWICE THE ALCOHOL, A BOTTLE THAT'S 5X COOLER, AND FROM A COMPANY MUCH SMALLER, IT'S MY ONLY FRIEND!
Just as dark (maybe even darker?) as the competitor, this stout clobbers the opposition. You immediately get that (allegedly) Russian Imperial Stout nose, with the somewhat yeasty, bready notes and then dark roasted malts. I mean, so I've heard. I've never been to Russia or had a Russian beer ever. Jump below to see how it stands up in the court of maw. (like mouth. My mom would hate this beer).
Hops – 5.5 It's bitter, yes. But not like an IPA. Not too unexpected either from the nose and the IBU label.
Malts –  6 Here's where things get a little suspicious. It pours just as dark as its competitor, promising a fair and unbiased competition. And then it doesn't even show up. You're an oak barrel stout, and I'm left wanting. I'm an IPA/DIPA/crazy beer fanatic and this isn't enough malt for me.
Carbonation – 7.2 It's pretty bubbly, at least initially. Just like everything else, it's there for a second.
Character – 3.4 This character is like the celebrity cameo in a shark movie. One line, and then your body parts start exploding. What's even in this? Is this just black soda water with some liquid smoke in it?
Palate – 4 It's getting sparklers for the 4th of July. It's going to a concert and finding out it's just a tribute band to the one you really wanted. It's the turn signal that's green for 2 seconds. Is it the worst thing that could happen? No. But you wouldn't buy any of that for a dollar.
Overall – 4.5 Take a lap, Guys. I realize most of your offerings are dreck, but you have some decent selections too. You just really bunged it up here.
Hops – 4.2 It's a little bitter, but less so than the D—other one. I'm afraid of Beetlejuice-ing more of their beer in my mouth if I say that name again.
Malts – 6.8 They're a clear and present…presence. Sweet enough to counteract the bitterness, juicy and roasty enough to draw you in. They can annex my taste buds any day.
Carbonation – 4.5 I don't know if it's because it sat for a minute, but it didn't pour that heady either. They don't get in the way, and it's not like drinking chocolate milk. Good work.
Character – 6.2 It's pretty standard as far as an RIS goes. Is there anything there to knock your socks off? No. But are they throwing around stuff like "roasted on vanilla beans" and then deleting all traces of them? Also no.
Palate – 9.4 This supposed collaboration comes together nicely to run away with this contest. I'm also running out of really good material here so I'll break it down like this: IT'S GOOD. VERY GOOD. It is not the best out there, but what it does, it does well. The flavors don't run away, nothing lingers too long, the finish isn't too strong or bitter.
Overall – 8.4 This is a very solid stout. I wouldn't wait in line to buy it, but if my friend said he had a case or a growler full, I'd already be in my car. Or maybe an uber, since it's 10.5%. I know there are some incredibly rare and delicious ones out there, hence the 8.4 rating, but it's really good. I don't have any more clever election, russia, pop culture references so that's a review. Buy it if you can, envy me if you can't.