Schlafly Coffee Stout
The Saint Louis Brewery 5.7%
Pours black-hole dark with a generous, almost tan head.
You immediately smell the inside of a small coffee shop. Java, java, java.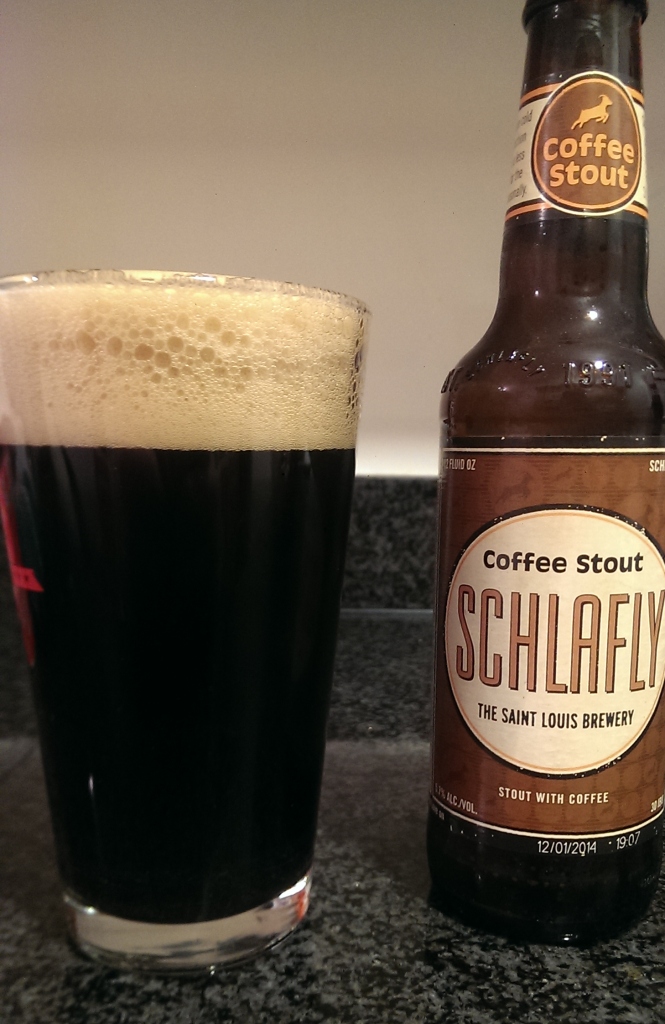 When you taste it, you get a nice bitterness from the stout itself and then a tidal wave of that sweet nectar that heralds in every morning. Coffee. Not even burnt starbucks, either. This is good quality beans sensually massaging each taste bud into a state of compliance. The only way you're sure it's not actually coffee in a bottle is that it's from the great folks at Saint Louis Brewery, and the slightly watery beer-y character. There's no alcohol, no hops, no yeasty smells or tastes. It's just a cold 12oz serving of delicious refreshment. If you're a huge coffee fan (beanhead? There's no way that's what you call yourselves) and you needed to have one breakfast until the end of time, go buy ALL of the stock of Schlafly Coffee Stout. Right now.
Hops – 1 There have to be some in there somewhere. But they're not noticeable and they're not necessary.
Malts – 4.5 Actually for a stout, it's more coffee than malts. They're there, sure, but this isn't an RIS or a Milk Stout. This is coffee with some beer in it.
Carbonation – 6.5 It compliments the coffee really well. You're not here for bold malty, yeasty complexity. You're here to enjoy coffee stout. Not stout with some coffee.
Character – 9 The label says COFFEE STOUT and that's what you're getting in spades. If you haven't picked up on that already.
Palate – 9 I'm not sure what else I can say that I haven't already. It'll win a Slashie this year for best Coffee/Stout, and not the other way around.
Overall – 9 It's simple, it's delicious, and my coffee palate isn't refined enough to thoroughly critique which beans they used. Buy it. Buy 12 of them. You'll drink them.