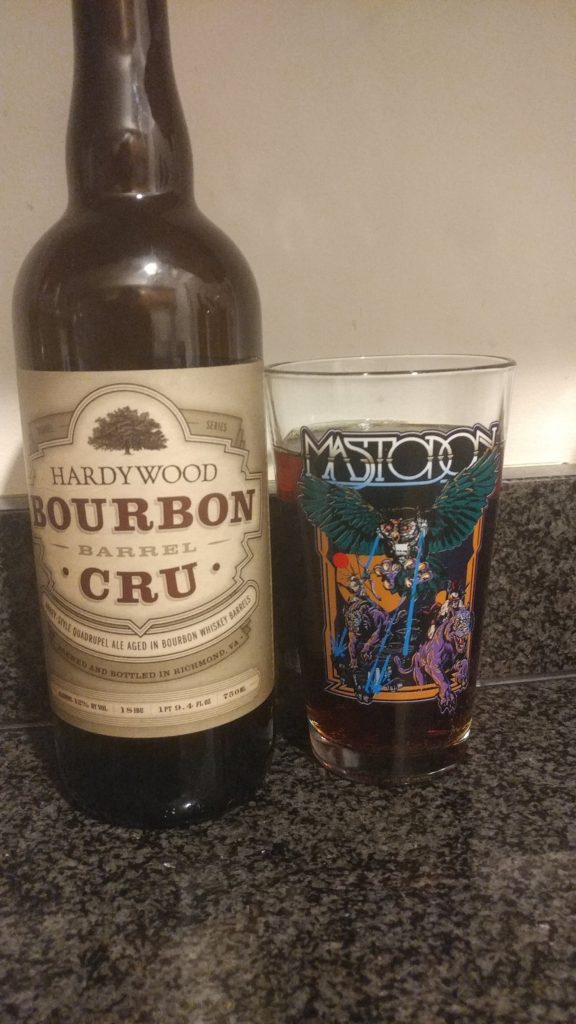 Hardywood
Bourbon Barrel Cru
Abbey-Style Quad
12% 22oz Bomber
Let me get this out of the way: HOT DAMN. This one is on the Wild Side. I didn't mean to do yet another fantastic VA beer, but this one was lurking in the fridge and the Caps just won, so
let's do it. You get a hefty malt, yeast, roast smell and then bourbon comes in like Hell on High Heels. But enough about the puns, let's kickstart this review.
Hops – 2.2 It's a quad. The label says 18 IBU and I believe them.
Malts – 7.4 Yeah, its sweet and roasty.
Carbonation – 4.3 It's not that bubbly. Pretty pleasant, really.
Character – 8.9 There's so much going on that someone that wasn't me probably couldn't describe it. But I will. There's the sweet maltyness and yeast profiles you get from a Quad-style
beer and then there's an entire box truck full of savory, driven by a big punch of bourbon character. If you had an Uncle Daryl that won the lottery, it's like he is this beer and he used
his winnings to go on a sophisticated tour of Europe, and then came home and spent the rest on Old Crow and cigarettes. Just wild.
Palate – 9.4 It's a rollercoaster of awesome that'll guarantee you won't Go Away Mad.
Overall – 9.2 That's not to say you could drink 12 of these in a row (go ahead, prove it) but just the one is great. It's a really big beer.
I didn't know what to expect with this one. Hardywood usually puts out great stuff, but I have had some terrible luck with bourbon barrel beers. They either forget to imbue it with the
bourbon flavors, or they get the bourbon and booze in there and forget to make a good beer around it. It's a veritable Rodeo of flavor, and If I Die Tomorrow, I'll be glad I had it.
Because Cru. You'll get it.