Saranac S'MORE Porter
6.2%
Served in a…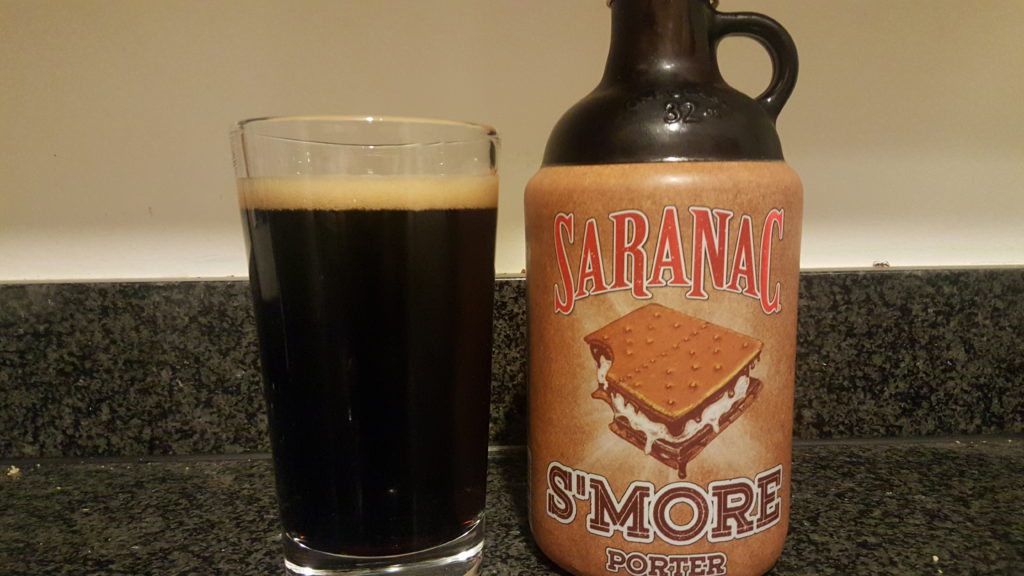 Jug
Initially, it pours very dark, with a small head. It immediately smells like malt, cocoa and something sweet and sugary.
Hops – 2 There's something to barely balance out the malt, but it's fairly on the less hoppy side of porters.
Malts – 7 It's not a YUGE malt bomb but it's definitely there and it's delicious.
Carbonation – 6 It's there but it's not too tingly. It actually helps break it up so that you're not chugging a chocolate milk concoction.
Character – 7.5 Malts, chocolate, sweetness and a little bitter. There's nothing enlightening going on but it's a little different and pretty tasty.
Palate – 8 This was a good effort to make something novel. Saranac seems to have a history of good ideas and mediocre execution so it's a small step up from the usual seasonal/rare ones. It's not going to change your life, but it's worth a try.
S'MORE porter is like hanging out with that uncle you rarely see. He might be cool, but he doesn't really work. Probably has the best of intentions, but it's for everyone's benefit that it's not an all the time thing. The jug it comes in (and yes, it's totally a jug) is pretty awesome. I might actually like the container more than the beer. There's lots of malt and chocolate flavor to it, and a mysterious sweetness, but nothing that stands out as marshmallow or graham cracker. I'd try roasting a marshmallow and serving it with that but I'm not a Scout Leader so there's no room in my pantry for anything that's not meat, meat products, meat seasoning or beer. There is a slight bitterness to it, like most porters, but it helps balance this beer out so you're not just drinking alcoholic Ovaltine. Is it delicious? Yes. Is it exactly like a s'more in your mouth? As close as you'll get without buying marshmallows. Or chocolate. Or graham crackers.