Biscuits and Marmalade
3 Stars Brewing
4.7% Kolsch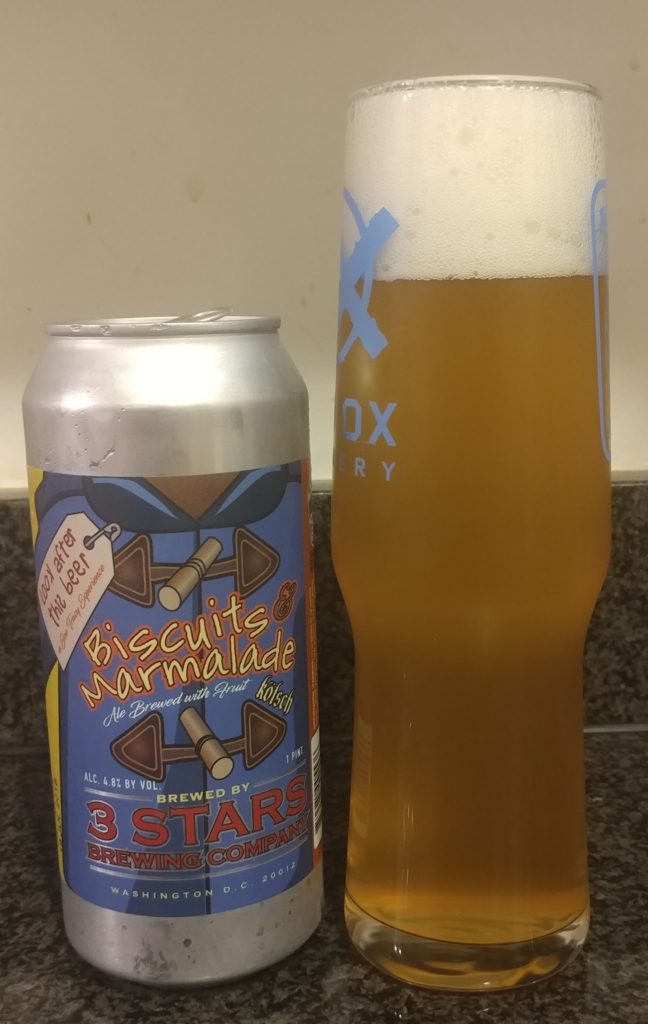 I have no idea what to expect with this, but I'm a sucker for a pretty label and had to have it. It pours a great, hazy yellow color which is expected with a kolsch. It's hot again, which makes sense seeing as we're still in August. Perfect time for a crisp, tasty beer like a kolsch. It smells like that light, sharp wheat/yeast smell and I'm ready for a decent experience.
Hops – 4.1 There's not a ton of bitterness, but it's still enjoyable. It might be able to please regular IPA drinkers and newbies alike with its smooth yet flavorful taste.
Malts – 5.0 I don't like giving round numbers, but I do like this beer. It's not a malt bomb but you still get a great wheat profile from it.
Carbonation – 7.2 It is bubbly but not totally unpleasant to hold in your mouth. However, this might make it a challenge to drink all 4 tallboys in a row.
Character – 3.5 There's nothing extraordinary here. It's a little sweet but it tastes just like a kolsch.
Palate – 7.1 There's nothing to make it stand out, so it really doesn't have any detractors. Then again, there's nothing incredible going on, so it can't exactly amaze, either.
Overall – 7.7 I'm going to grade this as a kolsch and not as an overall experience. It's good, I like it, but I would not pay the premium for it again unless there's a scavenger hunt and I need to find a DC-made kolsch with a cool label. Then it shoots right to the top of the list.
Kolsch are not exactly the most popular on the microbrew scene and I can see why. It starts like an ale, but then is additionally fermented cold like a lager. That makes it labor intensive for a product that could easily get overlooked. Is it good? Absolutely. Has it blown me away? No. Did I even remotely think about biscuits or marmalade when I was drinking it? Not at all. I'd give it to friends who just "want any beer" or someone looking for a brew they haven't tried yet, but that's the only use I can think of for it. OH WAIT. A shower beer. This smacks of a great shower beer. You don't need to pay attention to subtle flavors, you just enjoy your perfectly fine very cold beer while you wash your bod.