Chaos Mountain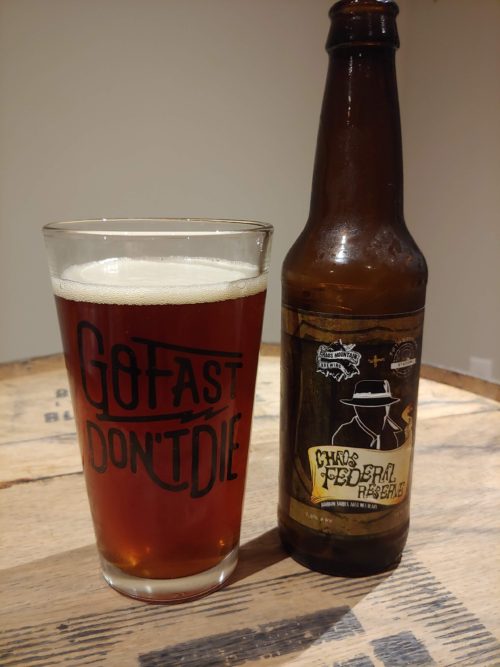 Federal Reserve
Wee Heavy
The Federal Reserve is a special edition of the Squatch from Chaos Mountain. While it's their flagship, they also have better and more well received options so I was hesitant at first. The story goes, Fifth and Federal needed a beer, and turned to the great guys at Chaos Mountain to get it done. So they aged their Squatch Ale in Bowman bourbon barrels, and this mythical beast came out. It pours a beautiful muddy brown color (not sarcasm) and smells like a proper wee heavy with awesome woody notes.
Disclaimer: I have had this particular one sitting in the batcave since January. At some point, you just gotta drink the beer.  It was, however, fantastic on tap at the source.
Hops – 2 It's a wee heavy.
Malts – 5.5 I'm surprised but then I remember that the squatch wasn't huge on traditional malt flavors (as best as I can recall).
Carbonation – 7.3 It's unusually bubbly for a barrel aged wee heavy but that's not such a bad thing. Breaks up the monotony.
Character – 6.5 There's malts and some of the usual barrel aged notes in it but there's nothing here to separate it from anything in the class. I'm fuzzy on how it remained so sweet without picking up major boozy notes to back it up.
Palate – 8.5 The high score here is just because there's nothing wrong. If you like Squatch, this adds a little extra to it.
Overall – 7.1 Squatch might be A yeti, but it is not THE Yeti.
There's nothing wrong here, but there's nothing that would make you need to seek this out. I am excited, however, for another Chaos beer that's in the lineup. I won't spoil anything but it's a huge one.