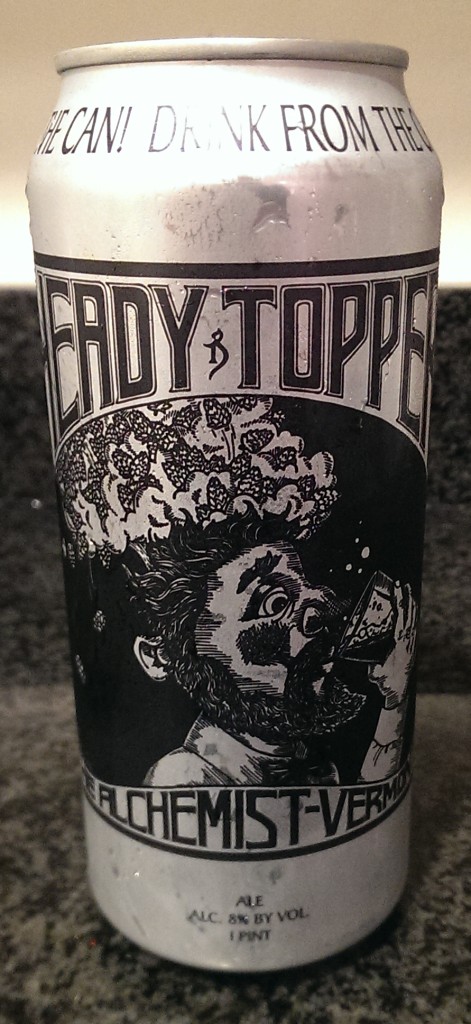 The Alchemist – Heady Topper DIPA 8%
Pint Can
The instructions on this can are absolutely foolproof: "DRINK FROM THE CAN!" So, I did. Opening the top releases an avalanche of delicious hops right into your nostrils. I can't comment on how it pours, except into your mouth at a frighteningly easy rate. Make no mistakes, this isn't out to convert those on the fence about big IPAs. This wants to tenderly pet your tastebuds to death in a Lenny-like fashion. This beer has multiple statements about how it's best when fresh, and unfortunately I did let this one age a little while. If it's even better than this when it's young, I'm jealous of those who got to experience that.
Hops – 8 Yeah. They're here. Bitter and floral and citrusy and delicious. It's not like drinking a pine cone, but if you don't like a bitter brew, stay away.
Malts – 4.5 They're there in the fact that they do enough to keep some hops in check and to deliver a nice sweet note.
Carbonation – 5.5 It's smooth and not too bubbly.
Character – 6.5 Look this is simple. A little sweet, and then a bunch of hops. You won't catch any crazy fruit esters, some wild rare yeast, or delicate notes of whatever. This is a fantastically simple DIPA.
Palate – 9 I love hops, and this is great. There's no booze taste to it, it's not too carbonated, and if you like hops half as much, it'll go down quickly. But not before you have enough time to check out flights to Vermont to score more of this delicious brew. Well done.