Orange is the New Stout
Center Of The Universe / O'Connor
Imperial Choc. Stout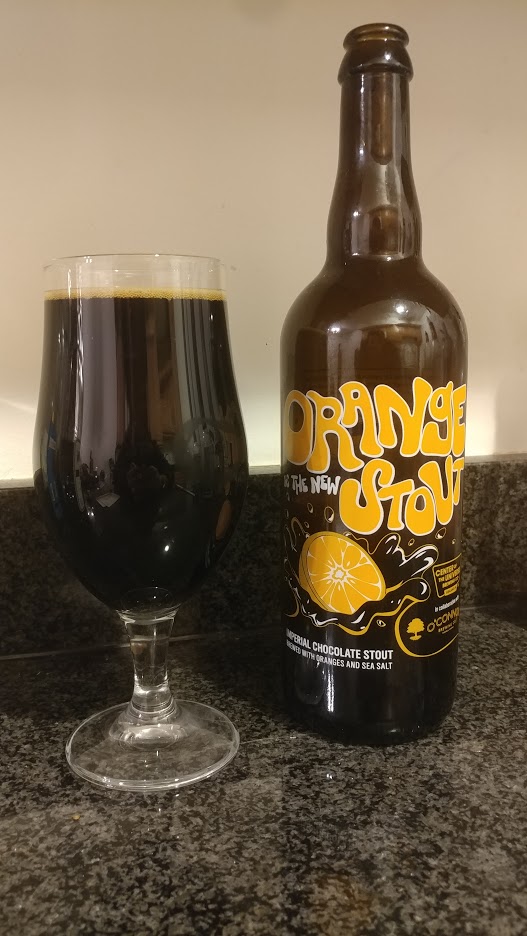 22oz Bomber
10.5%
I'm excited to get more Virginia beers in the reviews, and Center of The Universe has yet to disappoint me. This one is supposed to be like a salty, orange chocolate truffle, and if the color/smell is any indication, it'll be delightful. There's essentially no head to it, it's straight to business with these two. Here's your beer, it'll be great, citr'ass (citrus jokes?) down and enjoy.
Hops – 1.1 Moving along it's late, lettuce (produce jokes!) get to the point
Malts – 5.4 This one actually doesn't hit you with a lot of the caramel, malty taste you'd get from a big stout which is surprising. It's not a bad thing here though because malt flavor is the undercard in this prizefight.
Carbonation – 3.14 Because it was Pi Day recently and there's not much else to say about that.
Character – 7.1 I can definitely taste a lot of the orange, and maybe some of the salt. You have a great beer behind it, and you don't get a lot of the booze with it which is nice for such a robust stout. More chocolate would be appreciated, however.
Overall – 8.3 It delivers on its promise. Both breweries could have chosen the Safe Way (I admit that's a reach but stick with me) but they threw caution and whatever else was on hand to the wind. First word, ORANGE. It's right there and you get it. I would recommend at least a small sample, maybe a large sample, or guzzle it at someone else's expense.  I would like to deduct a few points since it's not as bold and roasty as I would like, but I have to consider what they were going for and remove my own bias and I think they got it. It's nice to have some new flavors kicking around, too.
The beer starts with ORANGE, and you can tell it's there in droves. Sea salt, maybe. I'm not too familiar with salt in my beer. But when you call it "IMPERIAL CHOCOLATE STOUT" on the label, you can be certain I am expecting exactly that, too. Good overall beer, but for the weakness of both the Imperial stout portion and the lack of chocolate, I have to peel (a-ha!) off a few personal points.  Great idea, pretty good execution.  It's tasty.  I know they probably nailed what they were going for, I was just left a little wanting with the promise of imperial, chocolate, and orange.
As always: Like, share, follow and enjoy!